Visitor Essentials
Visitor Information Centers
For advice or general assistance on getting about in Taiping, brochures, maps tour bookings, or accommodation, visit a nearby Tourist Information Centre and you'll be well-looked-after. 
Taiping is connected through a network of roads, highways and rail that make getting to Taiping a breeze.
Taiping follows Malaysia Time (MYT), UTC +8. Daylight savings time is not applicable in Malaysia. 
he standard electrical supply voltage in Malaysia is 240V with a 60 Hz frequency.
Equipment operating on a power supply of 220V – 240V should operate nominally in Malaysia. For equipment rated for a 100V – 120V supply, you will need a step-down power converter.
Power plugs and sockets are of type G.
Taiping's public transport system mainly consists of buses. Trains are available but mostly facilitate travels out of the city. There are 2 major bus operators in the city.
Taiping enjoys a tropical climate with sun all-year round. Taiping is also a city with one of the highest rain precipitation in Malaysia, which has earned it the nickname "Raintown".
Taiping generally has two rainy seasons:
October to November
March to April
The average temperature in Taiping is 30 °C with average lows of 23 °C. The average humidity in Taiping is 75%.
Weather forecast for Taiping:
Malaysian Meteorological Department Weather Radar image: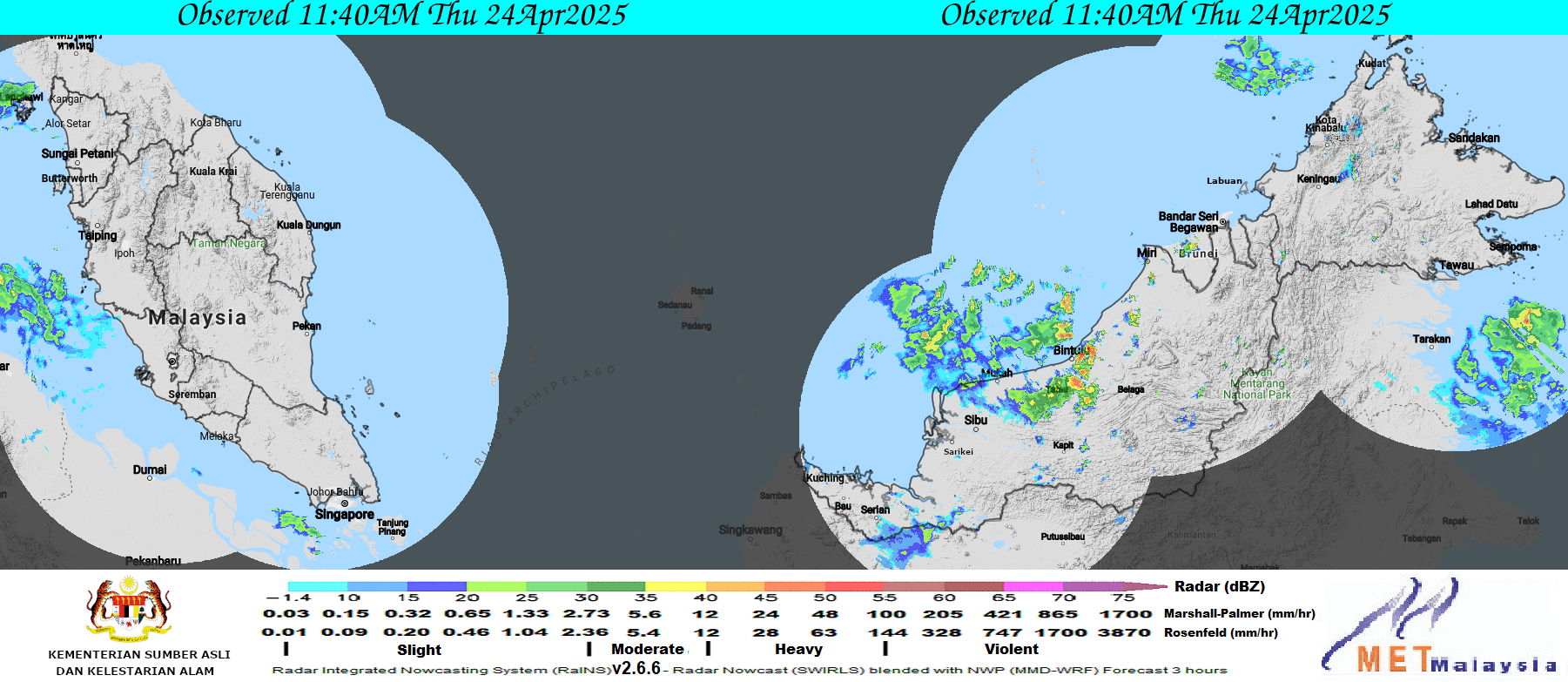 Taiping enjoys sunshine throughout the year, though it can be cloudy on some days. On days with clear skies, it is important to keep safe sun. Always wear a shirt, hat, sunglasses, and SPF 30+ sunscreen.
Taiping also has high levels of humidity. The hot, humid tropical climate encourages perspiration. It is extremely important to stay well-hydrated.
The official currency of Malaysia is the Malaysian Ringgit. The symbol for the Malaysian Ringgit is RM. The currency code is MYR. 
Bank notes:
RM1
RM5
RM10
RM20
RM50
RM100
One Malaysian Ringgit (RM1) is divided into 100 sen. 
Coin denominations:
5 sen
10 sen
20 sen
50 sen
Cash machines (better known as Automated Teller Machines or ATMs)  in Malaysia and Taiping generally accept Visa, MasterCard, Cirrus, and Maestro cards.
Most major credit cards are accepted, with the most commonly-accepted credit cards being Visa and MasterCard.
Tipping is generally not a part of Malaysian culture, habit, nor is it an economic practice. More often than not, your server will be pleasantly surprised if you do leave a tip. 
Some shops may allow bargaining, while others may not. It is not considered impolite to bargain within reason. 
Bargaining is allowed and even healthy in farmers markets, day and night markets, street markets, and bazaars.
Business in Taiping adheres to various operating hours. Shops in the city center and tourist areas usually open daily from 9am – 6pm. Shopping malls are usually open from 8am – 10pm. Some night markets may still be open till midnight. There are several 24-hour  eateries and convenience stores in Taiping. 
Taiping's main post office is open daily from 8.00 a.m. to 8.00 p.m., except on public holidays.
The Country Code for Malaysia is 60.
The Area Code for Taiping is 05. The 0 is omitted when calling from outside Malaysia. 
A typical phone number for a landline in Taiping would look like +605 NNN NNNN.
Mobile network coverage is available nationwide. Limited coverage is to be expected in remote areas.
Taiping is a safe travel destination, and persona safety is rarely a concern for visiting tourists. In the event that you require emergency assistance, the following phone numbers will prove helpful.
Police, Ambulance & Fire Brigade – 999
Taiping Police Headquarters – +6058082222
Taiping Hospital – +6058083333
Fire & Rescue Department – +6058084444
Taiping has several government and privately-owned hospitals and medical facilities should you fall ill or experience injury while you are in Taiping. Update your travel or medical insurance so that you are covered in case of any emergency.
Hospitals and healthcare facilities in Taiping:
Hospital Taiping
Apollo Medical Center
KPJ Taiping Medical Center
Columbia-Asia Hospital
Klinik Kesihatan Taiping (Taiping Health Clinic)
Klinik Kesihatan Pokok Assam (Pokok Assam Health Clinic)
Klinik Kesihatan Kamunting (Kamunting Health Clinic)
Klinik Kesihatan Changkat Jering (Changkat Jering Health Clinic)
Klinik Kesihatan Batu Kurau (Batu Kurau Health Clinic)
Klinik Kesihatan Selama (Selama Health Clinic)
Smoking is banned in all enclosed spaces with central air-conditioning, all restaurants, and eateries. 
The legal drinking age in Malaysia is 21 years of age. You may be requested to show proof of identification when purchasing alcohol. Tap/ draft beer, liquor and spirits are only sold in premises specifically-licensed to sell alcohol. These premises are not allowed to operate beyond 3am. Bottled and canned beers are not subject to this regulation. Drinking in public places which are not eateries is generally frowned upon, and may get you in trouble with law enforcement. Do not drink and drive.